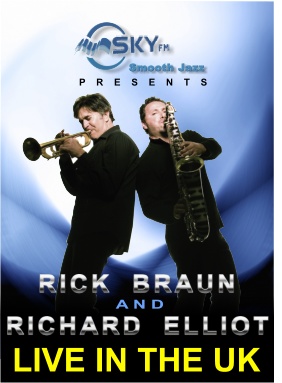 There's only a week to go now until Rick Braun and Richard Elliot return to rock the UK for a 7 day mini tour. Last year's visit was a jaw dropping exprerience so if you missed it then you should definitely make a date for this time around.
The guys start at Pizza Express Jazz Club in London on Thursday March 3rd, and continue for another 6 shows in 5 nights until Tuesday 8th March. They finish up on Thursday 10th March at The Stables in Milton Keynes.
Seats are all on sale now and can be booked through
The SKY fm Events Page
. Alternatively you can book for Pizza Express on 020 7439 4962 and for The Stables on 01908 280 800.
Rick & Richard will be joined by Simply Red's Mark Jaimes on guitar, Andy Whitmore on keyboards, Frank Felix on bass and Marc parnell on drums.
Still not convinced? Take a look at a clip from last year...